Big data has become one of the vital components of a stable business structure these days. Without data, your business decisions are just a gamble and could even end up being a disaster. This scenario calls for an efficient way to gather, analyse and leverage the power of data. Web crawling is where it all starts. Web crawling is used for aggregating relevant data from the giant big data repository called the world wide web. When it comes to web scraping, most companies are still confused between doing it in-house or outsourcing it to a DaaS provider who will deliver data the way you need it. Outsourcing the whole process and hiring in-house talent both come with their own perks and downfalls. This post would hopefully give you a better picture of the whole scenario and highlight the pros and cons of going with in-house crawling.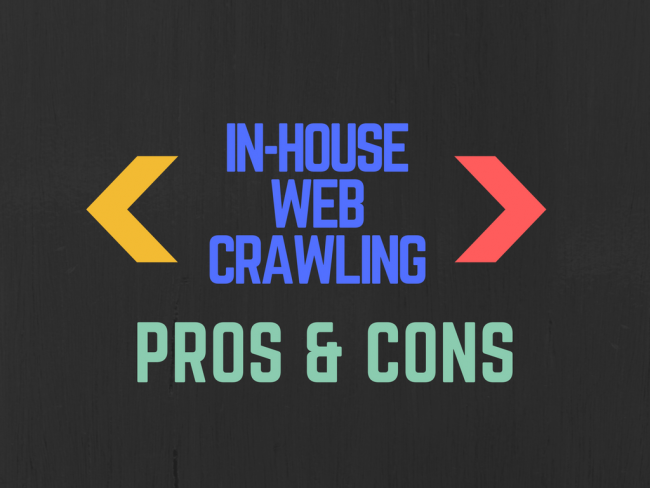 Pros of In-house crawling:
Let's look at the bright side first. Here are the pros of doing web scraping in house with your own team and resources.
1. More control over the process
It's a no brainer that you have complete control over the crawling process when it's carried out under your own roof. You get to change anything and everything the way you please whenever you want. This can be especially beneficial if your company is technically strong and has what it takes to manage a full tech stack dedicated to web scraping. In that case, in-house crawling gives you more control and there is no wastage of time in communicating with your data vendor.
2. Speed
Outsourcing any process involves communicating your exact requirement to your vendor. The same goes with web crawling services. It can take some time and effort for your web scraping vendor to fully understand your requirement and start working on it compared to your own team doing it in house. In short, the setup speed gains a considerable boost when you are crawling in house.
3. Issues get resolved faster
Just like it is with the setup, issues that need immediate fixing can be faster when you are doing the web crawling in-house. In the case of a web scraping service provider, you will have to raise a support ticket to get your specific issue noticed and resolved, which will naturally take some time.
4. No delay in communication
There is always a small delay when it comes to communication with an external entity compared to your internal team. This can vary depending on the geo-location of your web crawling solutions provider. If your service provider happens to be in a different time zone, you might have to wait for hours to get a response to your queries. This problem is non existent in the case of in-house web scraping.
Cons of in-house crawling:
In-house web crawling comes with its own issues and downfalls. Here is the dark side of trying to acquire data with web crawling on your own.
1. Costs More
The cost of hiring technically skilled labour and investing in high-end servers with great uptime for the crawling setup can far exceed the cost of getting only the data you need from a dedicated web scraping provider. Since the scraping service provider has everything set up already, they would be able to provide you with the data you require at a much lower cost than what you would incur with in-house crawling.
2. Maintenance Headache
Maintaining a web scraping setup can be a headache for your team since the crawlers require modification every time a source website changes its structure or design. And believe it or not, websites undergo changes quite often than you'd imagine. Most of the changes aren't cosmetic and hence would go unnoticed if you aren't monitoring them the right way. A dedicated web scraping provider will take care of this and you will never have to worry about changes in the source sites. That apart, data providers would have gathered a range of expertise working on multiple projects and sources of varying complexities. Hence, they'd be in a better position to tackle the unanticipated tech barriers.
3. Risks Associated with Scraping
Web scraping does involve certain legal risks if you don't know what you're doing. There are websites that explicitly state their disapproval of automated web crawling and scraping. You should always check the source website's Terms of Service and Robots.txt to make sure it can be safely scraped. If they are not, you are better off without crawling such sites. There are also certain best practices while web crawling that you should follow, like hitting the target servers at a reasonable interval so as to not harm them and not get your IP blocked. It's better to outsource the process if you don't want to take risks with your data acquisition project.
4. Loss of Focus in your Core Business
The focus of a company should primarily be on their core business, without which the business will go downhill. Considering the complexity of the crawling process, it is easy to get lost in the complications and end up losing a lot of time trying to keep it up and running. When web-scraping is outsourced, you will have a lot more time to focus and work towards your business goals apart from data acquisition.
Bottom Line
Web crawling certainly is a niche process that requires high technical expertise. Although crawling the web on your own can make you feel like you're independent and in control, the truth is, all it takes is a small change in the source website to turn everything upside down. With a dedicated web scraping provider, you get the data you need in your preferred format, without the complications associated with crawling.
Stay tuned for our next article to learn how to use Social media scraping for your competitive advantage.
Planning to acquire data from the web? We're here to help. Let us know about your requirements.