Best Web Scraping Services
Our web scraping services are fully customizable. You can change source websites, frequency of data collection, data points being extracted and data delivery mechanisms can be analyzed based on your specific requirements.
The data-aggregation feature of our web crawler helps clients to get data from multiple sources in a single stream. This feature can be used by different companies, ranging from news aggregators to job boards.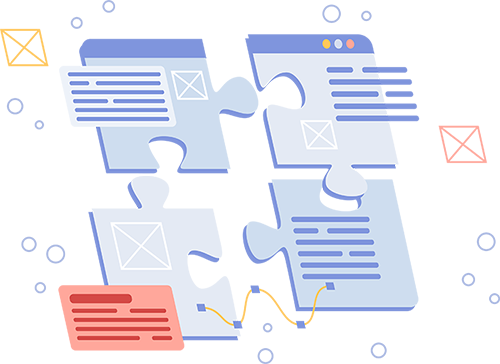 We provide fully customized solutions for companies who are looking to leverage data from the websites. From building DIY solutions to spotting trends or building predictive engines, we help to uncover opportunities.


With low latency data feed to highly scalable infrastructure, all solutions are available on the cloud; where you can be rest assured that even the tiniest of website changes will be tracked and accommodated automatically.
Harmonize Data Behavior and Trends
Our automated web scraping solutions can be implemented in a short period of time. Where our core focus will be on acquiring quality data and speed of implementation.
Ready-to-use crawler recipes offer vast experience in building large-scale crawlers for multiple clients across different verticals.
PromptCloud solutions can fulfill your custom and large-scale requirements even on complex sites without having the need to code.
We innovate and invest resources in web crawling techniques so that you get the benefit of high-quality data.
Expertise in Web Data Mining
Explore the many areas where PromptCloud will help your company to grow through a deeper understanding of data insights and analytics. We use technologies like live crawler that is powered by artificial intelligence and machine learning techniques. You can use this seamless flow of quality data in the required frequencies and formats.
Fully-Managed Service
PromptCloud offers managed data scraping services. From setting up crawlers to data normalisation, we ensure that the harvested data meets your quality standards.
Prompt Support
We work with strong SLAs, to provide prompt support and deliver more than we promise. Our data wizards are obsessed about making clients happy!
Complete Customization
Irrespective of the complexity of data requirement, our web crawlers are flexible enough to deliver customized data feeds by making use the best web scraping techniques.
Low Latency
Our high-performance machines and the optimized scraping techniques make sure that the scrapes run smoothly to deliver data as per the timeline.
Scalable Data
Need customized external data feed running into millions? We've got you covered, with our strong web scraping infrastructure and technical expertise, we help you scale with your data.
Up-Keep
Our sophisticated monitoring system keeps track of the slightest change in the site structure and alerts the engineering team so that swift updates can be made.
Our Process
Leading Web Scraping Service - Delivering
Quality Data
Unrivalled domain expertise and innovative thinking make us the right partner for your web scraping services and external data requirements
Share your Requirement
To start your data mining project, provide information to us on the sites to be crawled, fields to be extracted and desired frequency of these crawls.
Receive Sample Data
According to your specified requirement, we'll provide the sample data by setting up the web crawler. You need to validate the data and the data fields present in the sample file.
Finalize the Web Scraper
After you consent, we'll finalize the crawler setup to proceed with the web scraping service project and upload the data.
Data Harvesting
Finally, you'll download the data either directly from CrawlBoard or via our API in XML, JSON, or CSV format. Data can also be uploaded to your Amazon S3, Dropbox, Google Drive, and FTP accounts.
Creating a Data-driven Future
Client Testimonial
Trusted by Clients Worldwide, from Start-ups to the Fortune 500 companies
We meet all your data mining requirements.
I have used PromptCloud for my business, and was very happy with the experience. PromptCloud's customer support was excellent and they worked with me to ensure the data harvested was exactly what I needed.
Promptcloud has provided us with an excellent data quality for many years. They are our first web scraping solution when it comes to getting accessible data from the internet. I highly recommend them, they are indeed the best web crawlers.
PromptCloud provides an excellent data quality service at highly competitive pricing. Their web scraping service quality allowed our engineers to concentrate on the projects closer to the core of the business, with the security of knowing PromptCloud is servicing these other projects with the same level of rigour and precision we'd expect from our core team.

What's Going On
Latest Blogs
News From the world Of data mining and how different industries can use solutions from web scraping.
What is a web crawler? Have you ever wondered how Google seems to know exactly where to find that obscure
Read more
What is Web Crawling Web crawling, a cornerstone of the digital era, is the automated process of scanning and indexing
Read more